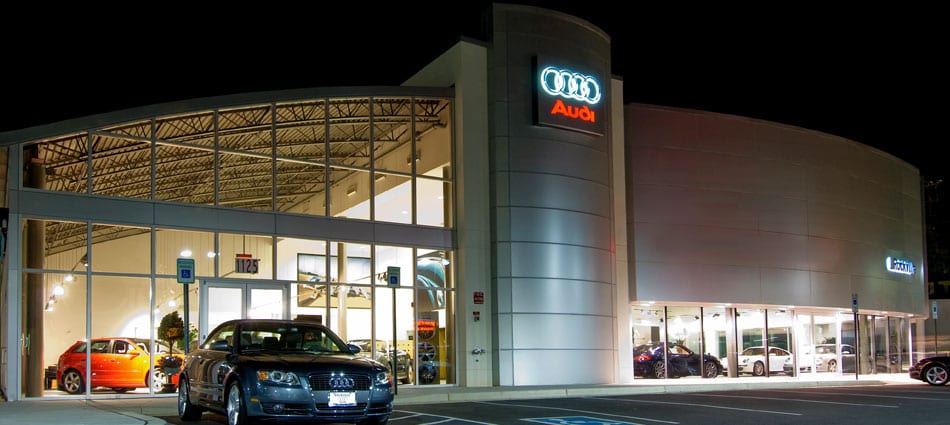 Why We are World Class
New & Used Vehicles at Audi Rockville MD
Purchasing a new car is a significant financial commitment, whether the car is brand new or used. Naturally, you want to ensure that the car you purchase is of high quality and comes from a reliable source. Happily, that's precisely where Audi Rockville steps in. We take great pride in being the area's top-rated Audi dealership in Rockville. You'll understand why people keep returning to us for their Audi purchasing and servicing requirements when you stop in to check out our sizable inventory of new and used cars, schedule an appointment for auto care, or ask our friendly and professional staff your burning auto inquiries. Customers can choose from a variety of Audi dealer incentives at Audi Rockville. 
Audi Leasing and Financing
Audi Rockville Finance Center Near Washington D.C.
No matter how old they are, luxury vehicles like Audi might appear to be pricey. The majority of consumers prefer to finance their car over time. Fortunately, there are a number of solutions for that. A vehicle loan, often known as financing, and an auto lease are two suggested payment options. Your monthly payments will be smaller and you'll have less time to pay off your car if you choose to lease one. When you lease a car, you agree to pay a set amount of money to use it for an extended period of time, typically several years. You never truly possess the car, though. Instead, the majority of your payment goes toward the expected loss in value of the vehicle over the course of the lease. Lenders typically add costs like interest payments to the monthly payment as well. On the other hand, if you take out a loan, you pay for the car in the end, but you do it through regular payments. In general, loans take longer to pay off and have larger monthly payments. The car is yours once the last payment is paid, and you may do whatever you want with it.
Service & Parts
Audi Rockville Service Near Washington D.C.
Any car deserves the best maintenance and repair. However, a premium car in particular has certain requirements. You will notice the difference that expert car care makes if you bring your vehicle to us for maintenance, service, or repairs. Our knowledgeable Audi staff is a specialist in maintaining Audi automobiles. This leads to less downtime for your automobile and more precise repairs than you'll find elsewhere. In addition to working on vehicles that require more complicated repairs, we are delighted to perform routine maintenance on your car. Your automobile will leave looking and operating as good as new since we only utilize certified replacement parts.
Let Audi Rockville be your go-to resource for all of your automotive requirements with skilled mechanics, an informed sales team, and a wide range of luxury new and used automobiles. We look forward to fulfilling your automotive needs, from assisting you in finding the automobile of your dreams to offering first-rate servicing for your vehicle. For additional information right away, call or send an inquiry. View our Rockville Audi dealership's most recent maintenance specials.
Quality Used Vehicles
Audi Rockville Serving Washington D.C. and the surrounding areas
A wonderful alternative is to buy a used car, which offers you equivalent technology and the chance to drive a premium car for less. Your monthly payments for both a lease and a loan on a used automobile will be lower. Saving money and getting premium equipment like heated leather seats, a leather-wrapped steering wheel, and a panoramic sunroof for less are both possible. We encourage you to look through our selection of premium pre-owned vehicles if this option appeals to you. You'll quickly understand why we are regarded as the #2 Audi dealership in the US for certified pre-owned automobiles thanks to our carefully examined vehicles and our sizable, constantly-changing inventory. To find out what we now offer, give us a call, browse our website, or come in. Any of your preferred Audi models, including the A8, A3, and Q5, might be available for test drives. We provide a variety of high-quality pre-owned vehicles from different manufacturers in addition to Audi. Review our Rockville Audi hours so you can schedule your next visit.
Get in Touch
Contact our Sales Department at

:

(800) 926-0161
Monday

9:00 AM - 8:00 PM

Tuesday

9:00 AM - 8:00 PM

Wednesday

9:00 AM - 8:00 PM

Thursday

9:00 AM - 8:00 PM

Friday

9:00 AM - 8:00 PM

Saturday

9:00 AM - 6:00 PM

Sunday

Closed