Audi Rockville Pre-Owned Vehicle Reconditioning Center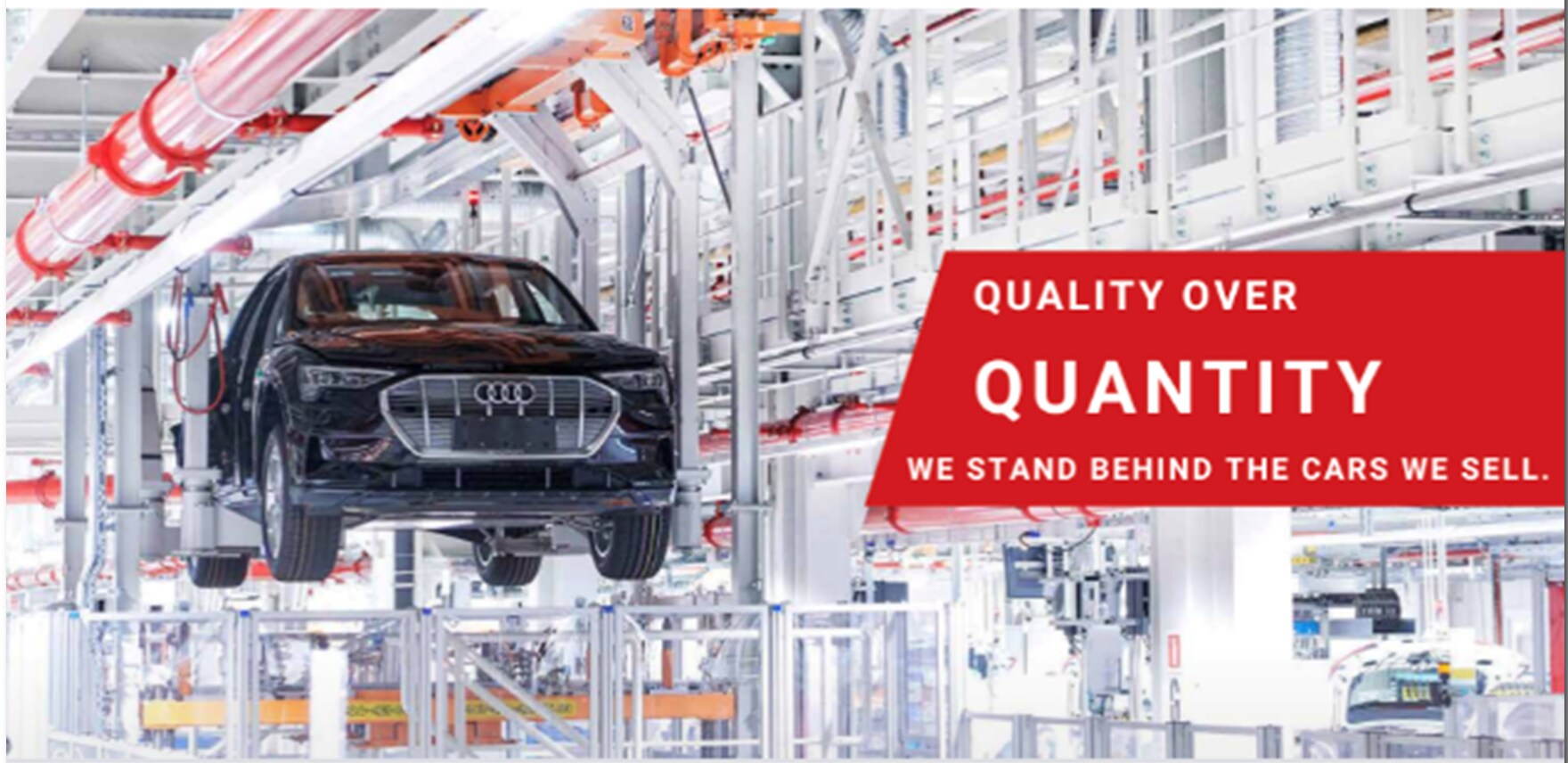 More Quality Pre-Owned Vehicles - Faster!
Market Demand has increased for Quality Pre-owned Vehicles. This is why we have invested in building a facility that is dedicated to expiditing the Reconditioning Process to meet the needs of our customers. 
We Offer Only The Best
At Audi Rockville, you'll find only the best. The best facility, the best inventory, an amazing staff, incredible quality and value, and a sales & service experience second to none. We only sell vehicles that meet our incredible standards and make it easier to navigate Maryland's rigorous inspection process. Before, during, and after the sale we are with you every step of the way. Our team is dedicated to providing you an exceptional experience, which is why our customers love us. Along with our stellar online reputation, we are Marylands #1 Audi Dealer, the #1 Audi Brand and Loyalty Dealer in the region, the top-rated Audi Certified Dealer in the U.S. When you're ready for the best, you're ready for Rockville Audi.
What is the Pre-owned Vehicle Reconditioning Process at Audi Rockville?
Step 1: The Inspection
 Every Pre-Owned vehicle that makes it to the showroom here at Audi Rockville has been through a rigorous inspection process, with over 100 specific items that must be checked. The inspection reveals any major problems that will be resolved prior to making the vehicle available for sale.
Step 2: Detailing
The first thing that must happen is a thorough cleaning and detailing. This means removing all the bumper stickers, parking passes, and most non-stock décor and trim pieces. Items like antennas and aftermarket wheels that have been professionally installed may be left in place.  Finally, the vehicle will be fully sanitized and deodorized.
Step 3: Mechanical Repair and Maintenance
The next step is to fix anything mechanically or technically wrong with the car. Some preventive maintenance happens in this stage as well. Technicians will test drive the car, going through a rigorous driving evaluation to reveal any issues. The car will be put up on a lift for a comprehensive undercarriage inspection. While the car is lifted, technicians usually change the oil and lubricate all required bearings and moving parts. They may also change the brake fluid, transmission oil, and axle oil, if needed. 
Step 4: Body and Paint Repairs
Once the mechanical repairs are completed, the car is evaluated by the body and paint specialists. This is when any scratches and dents are repaired.  This is also when any trim pieces, windshield, exterior mirrors are inspected and or repairing if necessary.  The wheels are also checked again for any curb damage and a specialist repairs them if necessary.
Step 5: Interior and Technology Repairs
Once the outside of the vehicle has been restored, interior technicians go over any issues such as the infotainment system operation, speaker quality, seat upholstery and operation, climate control, and window operation. If a sunroof or moonroof is present, they'll make sure it's working properly and that it doesn't leak in the rain. Finally, every light bulb in the cabin will be checked and replaced if needed.
Step 6: Warranty and Recall Check
Every vehicle will be checked for any needed warranty repairs and or manufacturer recalls.  If any items are identified; they will be repaired or resolved to manufactures specifications. It's important to remember that recalls are not a bad thing. A recall means that the original automaker has recognized a problem with their product, and they're committed to fixing it, free of charge. 
Step 7: Photos and Resale
When all the issues have been addressed, the car goes through one last washing and detailing, and then it is ready to be made available to our clients.   But first, we will take a few photos for our website and other online inventory listing sites.  
Once on the lot, the car will be given regular cleanings to keep it looking great for the road ahead!
Interested in Trading in Your Current Vehicle?
We need Good Quality Pre-Owned Vehicles back into our Inventory for Immedate resale and we would love the opportunity to buy yours!  Simply Click the Kelly Blue Book Valuation tool below to see what your vehicle is worth today!

Ready to view our Pre-Owned Vehicle Line up?


Hours
Monday

9 AM - 7 PM

Tuesday

9 AM - 7 PM

Wednesday

9 AM - 7 PM

Thursday

9 AM - 7 PM

Friday

9 AM - 7 PM

Saturday

9 AM - 6 PM

Sunday

Closed